Adoption Associates of Iowa brings families together
"Let the children come to me and forbid them not, for of such is the kingdom of Heaven." Luke 18:15-17
"Children really care only for this: that they may, on each day's wakening, look upon the faces of those who will love them, protect them, care for them, and give them being." William N. Pearce
William has helped us make a family of our own. We could never begin to say thank you enough to him for the help he has given us. He has helped make our house a home filled with laughter and love throughout.
– Daniel and Danielle Chrisco-Alleman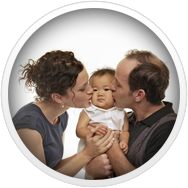 Mission Statement
Our mission is simple: To prepare the highest quality adoptive home studies and follow-up services, and provide the greatest expertise and reliability to children, to adopting parents, and to those who see it as a blessing to allow their children to be adopted.